When Lawrence Stroll acquired what was then called Force India in 2019 with the promise of significant investment, there was justifiably huge excitement for a team that had been hampered by lack of budget but consistently punched above its weight over the years.
But expanding a lean, efficient, overachieving team is not an easy process and I was always concerned that it was going to be harder than expected. You might think it's just a question of adding 'more' of everything to create a team that has more resources but retains efficiency, but it isn't.
Rapid growth can be destabilising, especially when it comes to staff additions. This requires rapid restructuring (otherwise no one really knows who they answer to), transforming in a matter of months working relationships with existing staff and the new staff – both inter-personal and inter-departmental – that have been built over years. Growing an F1 team quickly is not easy.
It was interesting to hear my old colleague Andy Green, who has led the team technically throughout this process, admit that this hasn't been a straightforward process during a recent press conference.


"There is the old Force India/Jordan mentality still there," said Green. "But we did have a couple of years where, shall I say, the genie was let out. So trying to put that back in the bottle is quite difficult.
"But then that mentality is still within the team. We still know how to work frugally to be efficient with what we do and how we spend.
"It's not something we're unfamiliar with. It's just something we've got to get used to again."
The Jordan mentality, as Andrew called it, was always about reacting to situations as quickly and efficiently as possible. We never had the money for the 'big plan', we just had to take performance or reliability upgrades by the scruff of the neck and do the best we could as quickly and cheaply as possible. We might not have always got it right, but that didn't stop so giving it our best shot.


By the genie being let out of the bottle, Andy is talking about the effect of vastly increased spending on personnel, facilities and development. This completely transforms the way a team like this thinks and operates, no matter how well you manage it.
Being a small reactive team is still possible in today's F1. That is the characteristic that allowed the team to punch above its weight for so long. What held it back was the fact that a large percentage of its parts were manufactured by outside suppliers, so this is the area that needs expenditure and expansion.
You can't expect outside suppliers to sit there waiting for the phone to ring from their favourite F1 team. Yes, you may have some sort of priority but to survive in business they need to be working for other companies, not necessarily other F1 teams but the industry in general.
It's also a question of quality. Not every company will be up to the standards that F1 requires. I'm not saying they are not capable, but sometimes F1 teams can tie themselves up in knots by overdoing design detail just to save those 0.001 grams.


The big teams – Red Bull, Ferrari, Mercedes, etc – all recognised this a few years ago and improved their in-house manufacturing processes to allow them to react faster. This meant that the design and research group had more time to make sure that what was going to be released for manufacture was actually going to improve their performance and not just 'perhaps' improve it.
First, prioritise expanding the ability to react faster with the production of components the design group requires and you will improve your performance without disrupting everything you have in place.
I'm not saying they didn't need anyone on the technical side as the existing team was being pushed to the limit. But if that was all put in place and functioning efficiently, then you can look at adding to your technical staff and actually being in a position to process more ideas.
However, I don't believe Stroll has the patience to move the company forward in steps – he wants results and he wants them now.
What happened in 2020 effectively confirmed this outside perception. The Pink Mercedes was, by the team's own admission, a very close copy of the 2019 Mercedes. And now, it has what is a very close replica of the Red Bull. And note that I say 'replica', not copy.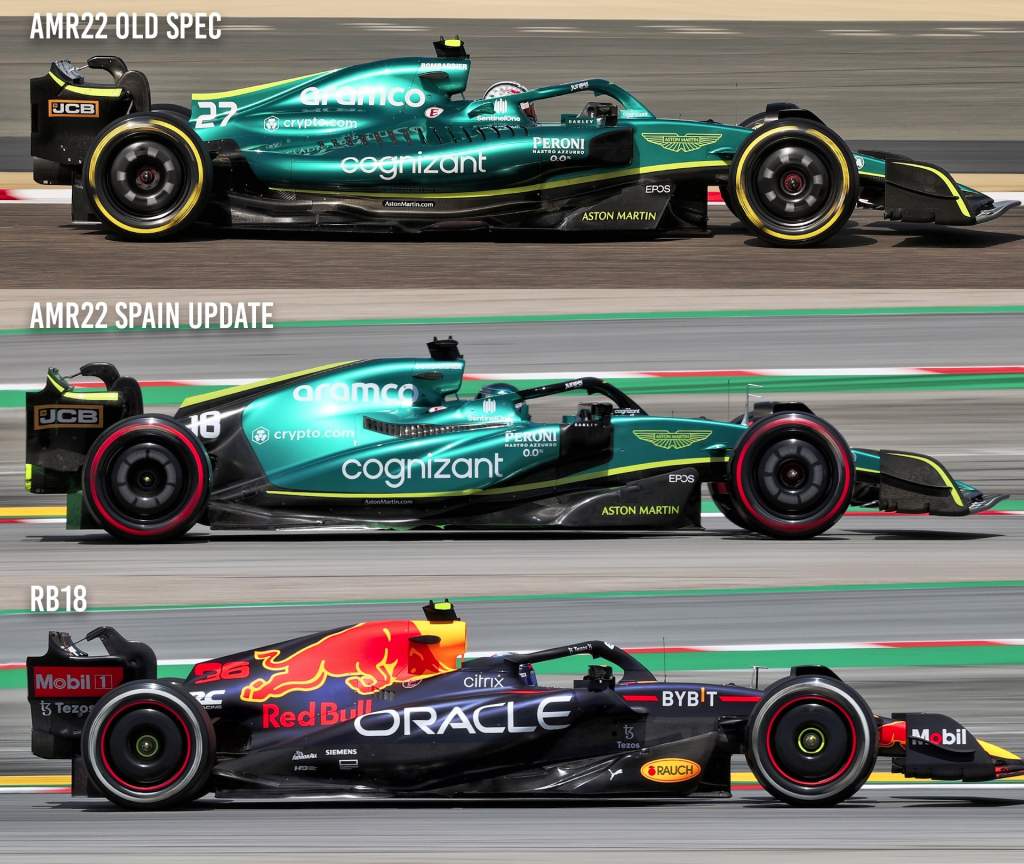 The Andrew Green I know and have known for many years wouldn't have walked into the drawing office one day, got everyone together and said to them 'this is what we are going to do'. The decision to follow the direction of another team would have come from on high and that just shows the lack of understanding of how things need to work from an engineering point of view.
Once you have succumbed to working that way, you reduce your creative and visionary skills in your team. That was very well-demonstrated when Aston Martin wasn't really capable of taking that design and adapt it to the changes for 2021.
I always say that no team knows 100% of what makes a car fast. The best team at any given point in time simply knows more than the others or has been a bit lucky by not making any mistakes on the unknown parts that make up a car's performance. A good example of that is Mercedes this year.
When you follow the concept of another car as closely as Aston Martin did for 2020, you reduce the percentage of what you know in terms of how a fast car works. Instead of getting stronger, you increase the percentage of unknowns.


Some will say you learn about the philosophy and characteristics of another team's design but to do that the detail has to be 100%. That will never be possible unless you have the blueprints of that other car. If you are building a copy or a replica you will still be optimising the aerodynamic performance around what you know within your own team.
When you are in a bit of trouble as a team, you find that people who know very little about how to get out of it keep popping up. If your management structure is not strong enough to cope with this, then they start listening to these people.
I suppose it could be called grasping for a solution, but from my experience it's just people protecting their own rear ends. That's when everything breaks down and instead of just focusing on the problem in front of you your efforts get diluted with back-biting.
Aston Martin should keep on with its factory expansion plans but, as I said above, it should get the manufacturing side running as efficiently as possible before integrating the design team into that expansion. You have to plan for the future and accept that it all can't happen overnight, which is what I fear the team is trying to do.
It is easy for those putting the money in to understand that building up a new factory campus takes time and realise that you can't dig the foundations at the same time as putting a roof on.
But too often the evolution of a team in terms of how the design team works, the process of manufacturing and running the car blurs into one – and they are far from that. They need to be treated as completely separate entities and individually optimised, there is no one quick fix.
Lawrence Stroll talked last year of a three-to-five-year plan to get to the point where the team is fighting for wins and championship, which is a good timeline. But unfortunately, I think that's just what he says outside the factory. Inside, I suspect the timing is expected to be much shorter.


Impatience can very quickly lead to an implosion and when that happens your good people will soon be off elsewhere to where they might just get just that little bit more respect.
Every team will go through highs and lows and Mercedes in 2022 is a typical example of that. But sticking together and understanding that you didn't intentionally build an uncompetitive car and looking at different ways to research your problems will make you stronger in the long term.
It takes time, but more importantly it takes faith in the structure you have in place. And for that crucial ingredient it takes patience.
Max Verstappen looked dominant on Friday at the Canadian Grand Prix. But his superiority might not have been all it seems as Mark Hughes explains
Charles Leclerc will have to serve a grid penalty at the Canadian Grand Prix after more changes to his Ferrari Formula 1 power unit.
Formula 1 championship leader Max Verstappen edged his title rival Charles Leclerc to complete a clean sweep of the Friday practice sessions at the Canadian Grand Prix
Formula 1 championship leader Max Verstappen headed Carlos Sainz in first practice for the Canadian Grand Prix, the first session in Montreal for three years
Mercedes is running a "relatively extreme" experimental floor with a large cut in it on Lewis Hamilton's Formula 1 car during the first free practice session for the Canadian Grand Prix
The list of Formula 1 teams' Canadian Grand Prix upgrades isn't huge, but it includes some significant contenders
The Race started in February 2020 as a digital-only motorsport channel. Our aim is to create the best motorsport coverage that appeals to die-hard fans as well as those who are new to the sport.