Keep riding 🇫🇮
https://t.co/2iaEg1Y2Ne test ride on Saturday and https://t.co/cTHWOIaydP on Sunday!
#VB77 @canyon_bikes
Three generations of Russell. 💙
Hello St Louis
Good quality time with family and friends to relax and recharge batteries. Now back to training these days to prepare well for the second half of the season. Let's go @ScuderiaFerrari!! 💪🏼🌶
–
#Carlossainz
Días de descanso con familia y amigos para relajarse y recargar pilas. Ahora vuelta a los entrenos estos días para preparar bien la segunda mitad de la temporada. A por todas @ScuderiaFerrari!! 💪🏼🌶
–
#Carlossainz
Australian GP called off!
Michael Delaney 18/08/2022 at 16:4218/08/2022 at 17:18 <!– F1 News, Reports and Race Results, Red Bull Racing Comments Off on Marko resists idea of F1 as 'battle of the accountants' –>
Red Bull motorsports consultant Dr Helmut Marko says he is opposed to the idea of Formula 1 being held hostage by the bean-counters as a result of the new budget cap and strict rules on spending within the sport.
The sport's cost controls mean that spending is limited to around $150 million (depending on the number of races per season). With inflation skyrocketing around the world, this already tight limit is getting even tighter by the minute.
That means the accountants employed by the teams to keep a grip on their finances are rapidly becoming some of the Most Valuable Players in the sport – something that Marko isn't keen on.
"The finance department has been expanded significantly," he told German motorsports news site Motorsport-Total.com in an exclusive interview conducted at the Hungarian GP before the summer break.
"In the past, the technicians only had to register how much they needed, and if they were outside of the business plan you had to somehow coordinate this with Red Bull in Salzburg.
"Now it's the case that the cooperation with the financiers determines the updates and also that of the massiveness of the updates.
"But it's not the case that the financier says, from then on there can be no more updates. We in the team management look at it and say we still need an update. Then that has to be saved somewhere else.
"It's a process where the FIA is learning, where we're learning. But I hope it doesn't degenerate into an accountant's championship."
©RedBull
Retaining staff under these conditions is proving particularly difficult. "We have cut people at Red Bull Racing, but we still have Red Bull Technology," Marko explained. "The people will then be moved and given other tasks.
"We have the hypercar, we're in the America's Cup. There are some projects where we are accommodating staff you don't want to lose.
"We founded Red Bull Powertrains last year. The Mercedes engine factory is probably 20 or 30 years old. Ferrari as well. You have to find adjustments in the cost cap."
Red Bull currently runs engines developed by Honda in Japan and shipped over as sealed units, but that will change when new engine regulations are introduced in 2026 with the team likely to link up with Audi.
"There are currently 300 employees [at Red Bull Powertrains]," he explained. "If a new manufacturer comes along, you can cooperate. They could use the facilities that we have, which is another bonus point."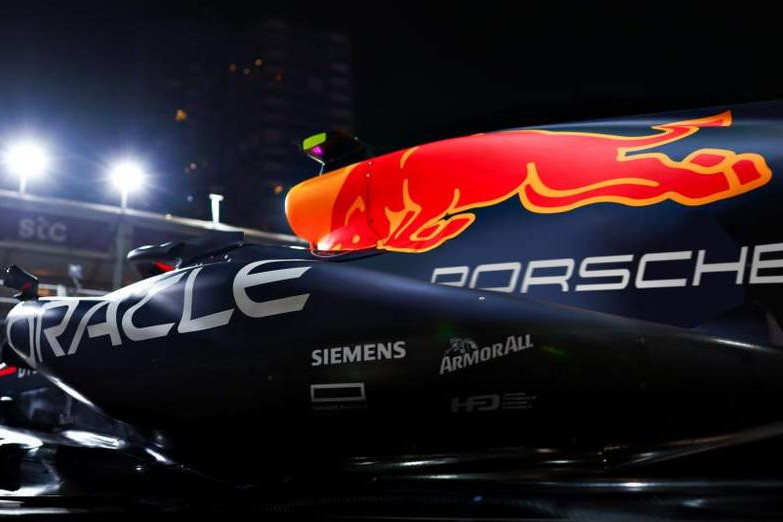 "If a new manufacturer comes in, they will immediately have a new engine factory with six functioning test benches. Everything there is the finest of the finest."
Even so, there have been some high profile departures from the team's technical department, such as former head of aerodynamics Dan Fallows leaving for Aston Martin. Marko hopes these have been minimised as much as possible.
"We have a solid team, we have little fluctuation. It happens that someone leaves, but it was nothing essential in our aerodynamics department. .
"That was possible because we have such a solid and passionate group – and a good financier who regulates that with the budget cap."


Marko also gave an example of how the current tough global economic situation in the wake of Russia's invasion of Ukraine had also had a major impact on F1.
"If we are granted an amount X, we cannot currently build it because we cannot get the necessary materials. There are shortages on the world market," he said.
"[Powertrain systems specialists] AVL cannot deliver ad hoc because steel is scarce. You can hardly find construction companies. You have to take that into account in such an overall package.
"We were lucky that we completed most of the construction work before the start of the war. We had already ordered from AVL beforehand. This means that the steel shortage no longer affected us as much."
Keep up to date with all the F1 news via Facebook and Twitter
Keep informed with the latest F1 news, reports and results from F1i.com. Also bringing you live reporting, features, interviews, videos, pictures and classic content.