As Mercedes has worked through improving its capricious 2022 Formula 1 car it has remained resolute that something pinpointed by many as a potential major flaw is merely a "distraction".
Points of distinction between F1 cars can sometimes be hard to identify on the surface, so when they are spotted they become the subject of great interest and scrutiny. This quickly creates red herrings.
That may be the case with Mercedes' innovative and aggressively minimised sidepod design. It turned heads in Bahrain testing, was briefly controversial, and while rivals quickly stopped caring about them when the W13's flaws became apparent, the sidepods still came to represent the entire car 'concept' to the outside world.

When Mercedes had a bad weekend or suffered any kind of performance-related issue, it became common to hear a variant of: 'Are you going to ditch your sidepods?' – as if this was the key part of the package, and Mercedes was blindly stubborn to persevere with it.
In reality, when Mercedes personnel have referred to a "concept", they are probably thinking more about suspension geometry and floor shape (underneath and at the edge).
"Those are the things that are more powerful in determining the car performance," says trackside engineering director Andrew Shovlin.
"I think it has been useful to see that this narrow bodywork car can perform well in races, and this is certainly the thing that, for us to take as a foundation for development, will be more effective if we work with what we've got rather than try and hop to someone else's design.
"The sidepods are probably a bit of a distraction from the overall issues we've had to fix."
It's worth noting that Red Bull and Ferrari have gone for two very different sidepod interpretations to one another, yet their cars (the fastest two in 2022) are equally competitive.
These have spawned a variety of imitations across the grid but there is hardly one definitive sidepod design that Mercedes is eschewing.
What is fair to say is that Mercedes now stands alone with a 'shrunken' sidepod design as every other team has opted for an undercut/downwashing approach, or the Ferrari-inspired top surface with the sunken middle section.
The sidepods often just get shrugged off by Mercedes personnel as 'just bodywork'. They're significant but, as Mercedes technical director Mike Elliott notes, they are "probably not the key differentiator – it's a detail in the floor design".
That's not to say the sidepods won't change, especially in 2023. Mercedes has been open to this idea for a while and made no secret that it is possible.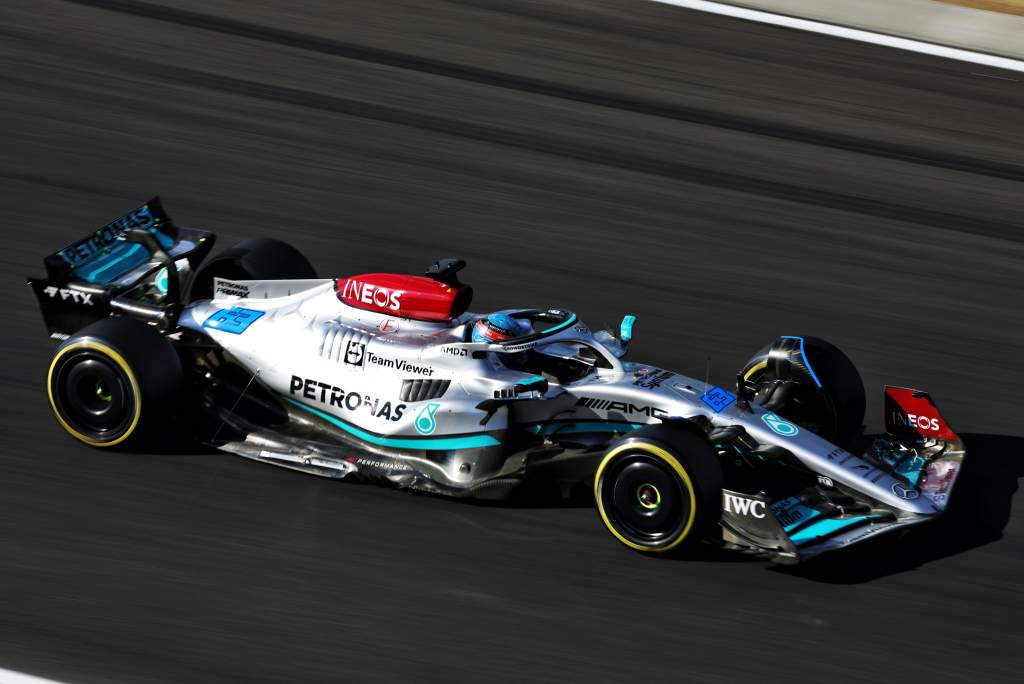 That has probably fuelled speculation that Mercedes will indeed ditch the sidepods – but if it does it will not be because the sidepods are considered a silver bullet that can cure all the car's ills.
"We don't think that just changing our sidepod will change our competitiveness," says Shovlin.
"We're certainly not of that mind, nor are we wedded to saying 'this is how the Mercedes car must look'.
"So, from the very early part of the year we're looking at other teams' bodyworks and certainly with a view to next year, looking up and down the grid to see ideas.
"And it may be that we don't just take another team's idea. We're looking at combinations of different concepts.
"But it's a gradual process. I think fundamentally our car isn't going to change appearance massively this season. But I'd be surprised if next year's car looks the same."
Elliott confirmed last month at the British Grand Prix, where Mercedes had a major upgrade package, including new front suspension fairings and a revised floor, that the team had "evaluated some concepts" in the Ferrari/Red Bull style and will continue to look at them.
The narrow sidepods have left Mercedes with a big, cantilevered floor and managing the stiffness of that, Elliott concedes, has been a challenge. But it's not "the big defining feature" of the car.
"I think you'd be silly not to have a level of humility that you think you potentially got it wrong and go and look at what everybody else has done," says Elliott.
"And that's not just the Red Bull concept, that's looking at all the concepts up and down the grid and saying what looks interesting and why.
"As an ex-aerodynamicist, I would say that what you try to do is understand what you think is happening in the flow field, work out what you want to do with the flow field, and then develop the bodywork shapes from there.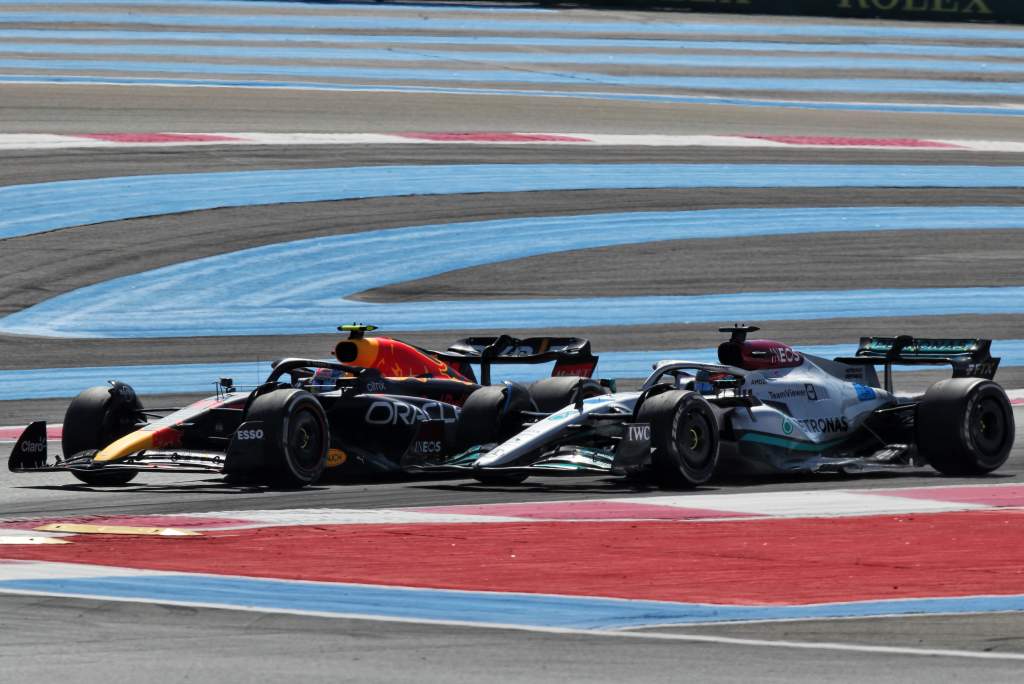 "We'll go and look and say, 'what we think the Red Bull bodywork does and why does it do that?' – the same for all the other cars up and down the grid, and then see what we can learn from that, see what we can apply.
"Then maybe you'll see changes this year, maybe you'll see changes next year. And we'll maybe we'll stick with where we are.
"They're the questions we're trying to answer."
Remaining methodical during a frustrating season has been key to Mercedes chipping away at its deficits.
The sidepods are not solely responsible for the porpoising that dogged the team in the early races, have even less to do with the poor ride quality that battered Lewis Hamilton and George Russell in Monaco and Azerbaijan in particular, and are unlikely to be the root cause of the poor tyre warm-up that has hampered the majority of qualifying sessions and early race stints.
Understanding all of that has been a far greater priority for Mercedes, which has often sounded lost through 2022. Mainly because the car has hardly been entirely hopeless.
What Mercedes has found particularly annoying is how the W13 has shown glimpses of performance, just enough to convince the engineering team that the potential seen in the data really is achievable – but not enough for the race team to have got a proper handle on exactly what it is that puts it in the right window.
"It sucks you in a bit, from an engineering point of view," Shovlin admits.
France was a good example. There, Mercedes expected to be strong. But through the weekend, or even qualifying, its car performance varied wildly through the lap and there was no obvious reason why – then come Sunday's grand prix the race pace was strong and, thanks to some help from Ferrari and Red Bull, Mercedes scored its first double podium of the year.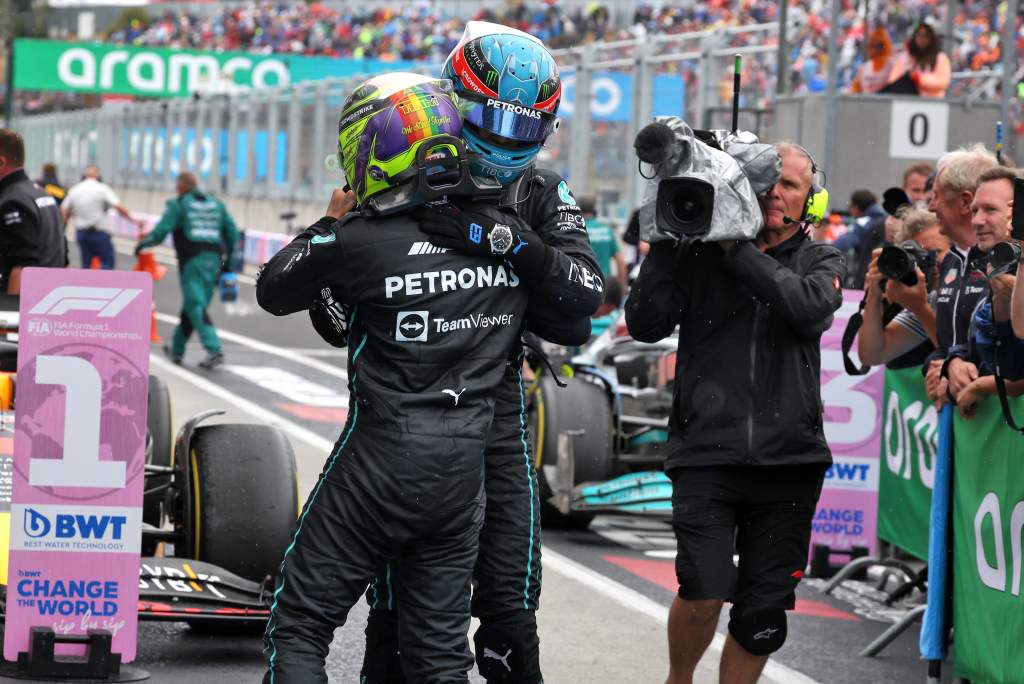 "Within one session we go from totally uncompetitive in the first sector to the best in sector one," says team boss Toto Wolff. "From uncompetitive in sector one, dreadful, to being the quickest in sector one at the end. And the opposite in the last sector.
"So clearly there's something happening – whether it's wind-affected or tyre-dependent – that's just not working on our car.
"The car is on the edge. And between hero and zero there's just a super-fine margin that we don't seem to hit."

This was perfectly illustrated a week later in Hungary. Some set-up experiments went awry on Friday and left the team with a lot of work to do. Significant changes were made overnight – a tough task, but one Shovlin says was beneficial given how much it taught the team about what didn't work on the car – and by the time the track dried for qualifying the car was night-and-day different.
For probably the first time this season, both drivers had a confidence in the car that had previously been absent in qualifying. Russell put it on pole and Hamilton reckoned it would have been a front row lockout had he not had a DRS problem on his final run.
In the race, Russell led the first stint before slipping back, Hamilton charged through from eighth, and Mercedes banked another double podium.
OK, there is still a lingering pace deficit to Red Bull and Ferrari. But these Mercedes performances have been achieved with the same core concept – and yes, the same sidepods too – that was being questioned just a few races previously. As Shovlin says: "We've been able to apply those improvements to the current package, which is a good sign."
It's been crucial for Mercedes because the team needs direction for 2023. Only by understanding as much as possible about the W13 design can Mercedes determine with any confidence whether its core concepts should be carried over or what specific areas – sidepods or otherwise – must be adapted.
The performance trend, and results, show that continuing to develop the W13 has clearly paid off for Mercedes. It has rewarded the team for its perseverance and diligence. And that is very valuable with a relatively stable set of rules for 2023 on the horizon (ignoring the tweaks to the diffuser throat height and raised floor edges that are now official).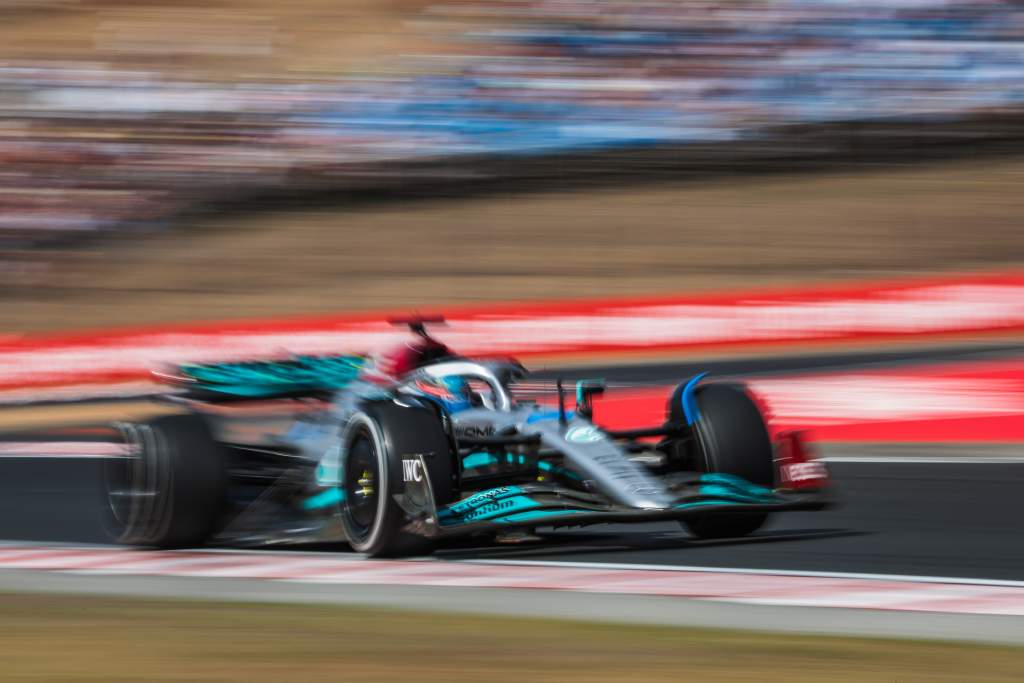 "We need to just continue to keep an open mind," says Russell.
"I don't think changing the car concept is going to make us go any faster, maybe the contrary to be honest. Sometimes you've just got to stick to the process and keep on pushing. And that's difficult to do when you're off the pace and things don't seem to be going your way.
"But I believe in every single person within our team and I think we're making huge progress for the time being. We saw that with the job we did [in qualifying in Hungary], you saw with the pace that both of us showed [in the race].
"At the start of the season we were finishing races a minute behind first position. The last two races we've been within 10 seconds. So I think it's definitely going in the right direction."
The crux of that progress has been keeping the focus on confirming Mercedes' original development path, refining its tools and ensuring better correlation between simulations and the track.
The aerodynamic details for 2023 will come later. Whether that means new sidepods or not, Mercedes is finally building a more robust list of what works and what doesn't.
"We just continue grinding away trying to understand," says Wolff.
"But the narrow sidepods have the least impact on our current problems and on performance."
George Russell expects Red Bull's pace advantage to be so great that Max Verstappen will "pretty comfortably" win the Belgian Grand Prix from 15th on the grid
Mercedes being seventh and eighth in Belgian GP qualifying one round after taking pole is a "kick in the teeth", says Lewis Hamilton – who "won't miss" the team's 2022 Formula 1 car
With seven of the 20 Formula 1 drivers facing major Belgian Grand Prix grid penalties, the grid looks vastly different to the final qualifying order. So, who's starting where at Spa?
With new engine manufacturers entering in 2026, Christian Horner says F1 must be ready to act if there's a risk of a 2014-like disparity
Sergio Perez led a Red Bull 1-2 in the third practice of F1's Belgian GP weekend, while Ferrari's Charles Leclerc had a minor crash
Further Ferrari engine changes mean Charles Leclerc will not have the Belgian GP grid advantage rivals thought he might benefit from
The Race started in February 2020 as a digital-only motorsport channel. Our aim is to create the best motorsport coverage that appeals to die-hard fans as well as those who are new to the sport.